Welcome to Orphan Black Wiki, a collaborative encyclopedia for everything and anything related to the TV show Orphan Black. In this wiki, find out all about the show, recent media, the cast, and more! The wiki format allows anyone to create or edit any article, so we can all work together to build a comprehensive database for fans of the show Orphan Black.


Don't forget to visit this wiki's guidelines before editing.


To date, there have been 21,478 edits to this wiki. 183 articles and 9,448 files have been added since this wiki was founded, and we are still growing.
Featured Video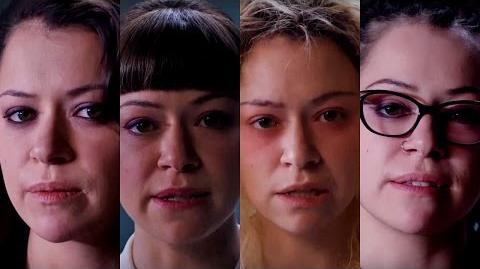 Featured Character
Sarah Manning and her daughter, Kira, are considered significant and actively sought after by the Dyad Institute, among others, because she and her twin sister, Helena, are the only clones able to reproduce, and Kira is the first ever offspring of any of the clones.
Once merely a rebellious punk on the run hoping to eventually make a better life for her daughter and foster brother, continual shocks to her identity changes Sarah's plans in life, leaving her reeling and wondering who she really is. Originally as a scam to steal Beth's savings, she takes on the identity of recently-deceased Beth Childs and instead finds herself sucked into a hidden life-long conspiracy of illegal human cloning.
Read more...